In the enchanted landscape of the Ausseerland in the Salzkammergut region of Styria you will find the "Grimmingsicht" campsite. A campsite where the Dutch owners offer you the warm Austrian hospitality! The campsite is situated in a quiet area, only 500m away from the village centre of Bad Mitterndorf, and has a beautiful view of the surrounding mountains, such as the Grimming and the Lawinenstein. The campsite is on grassland and has 36 places.  (25 touristplaces)
A camper will look at the campingplace with different eyes. He wants to have a clean washing facility, an maintained place and a personal approuch. We are of the opinion that a good effort by the owners brings an important contribution to the satisfaction off the guests. Camping "Grimmingsicht" is run by owners who are enthousiastic campers themselves and therefore also give their heart and soul to make sure you enjoy your stay. We will answer your questions and help you, as you would expect on a campingholiday. This mentality ensures that you will have a relaxed holiday on our campsite.                                             In short, camping "Grimmingsicht" is a campsite where you arrive as a guest and leave as a friend! We are looking forward to welcome you on our campsite.
Annemarie & Léon Bakker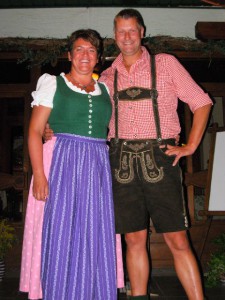 Camping & Appartment "Grimmingsicht"
Dear Guests,
For inquiries and reservations please send us an e-mail. A reservation is only valid if you received a confirmation from us.
Our places sind not suitable for mobile homes and caravans over 8 meters.
Our Phonenumber ist 0043 3623 2985.                                                                                                            You can reach us from 09.00h to 11.00h and from 13.00 to 20.00h.                                                          Our e-mail adress is camping@grimmingsicht.at. 
Arrival and registration is (from 16.04 to 15.10)  only possible between 13.30h and 21.00h. From 16.10 to 15.04. arrival is possible between 13.30h and 20.00h. For holidays we have different arrivaltimes. Please contact us if you will arrive on a holiday. 
It is not possible to arrive after these hours. We do not have a parking place.
From Monday 06.11.2023 to Thursday 30.11. our campsite will be closed because of our holiday. We re-open at Friday 01.12.2023